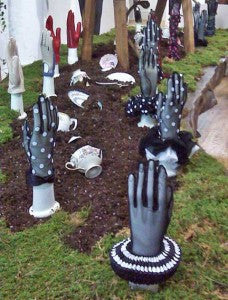 Hot Pick for Fall: Gaspar Gloves
(reprinted from Splendidcity.com)
September 22, 2009 by Tracy Hopkins
It's official, today is the first day of fall. Even though the weather isn't the least bit frosty, it's still a good time to invest in a quality pair of gloves.
During Fashion Week, I went to a cocktail presentation for Gaspar Gloves. Designed by third generation glover maker Dorothy Gaspar, the gloves were featured in designer Erin Fetherston's feminine Spring 2010 runway show.
The gloves are also highly regarded in Hollywood and have been worn by leading ladies including Angelina Jolie ("The Changeling" ) and Michelle Pfieffer (as a fierce Cat Woman).
Gaspar gloves are like buttah, and I can't wait to wear my black leather pair with an eye-catching woven pattern.
Image credit: Tracy E. Hopkins
---