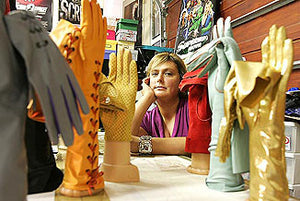 "Dorothy Gaspar's Glove Designs Pack Star Power" – Los Angeles Times
From LA Times Article:
"Dorothy Gaspar's glove designs pack star power"
by Monica Corcoran
Dorothy Gaspar does not make gloves for meek women. Her long, sinuous leather creations -- imagine Louboutin stilettos for your hands -- are better suited for martini-swilling minxes who smirk through apologies. Same goes for the chic two-tone driving gloves that come in flashy sports-car colors and snap efficiently at the wrist. Even folded over in repose, like sleeping swans, Gaspar's gloves are ready for their close-up.And no doubt, you've seen a couple of her designs on the big screen: the chic cocoa-colored gloves Angelina Jolie wore as she wrung her hands in "The Changeling," or the red suede scallop-edged gloves fancied by Renée Zellweger in " Leatherheads." Gaspar also designed gloves for "Titanic," " Batman Returns" and "Charlie's Angels."Typically, she sits down with a film's costume designer early on to go over sketches and determine which glove design will complete a character's style."These are the ones I made for Eva Mendes for ' The Spirit.' They are very dramatic and have a 1940s look," says Gaspar, in her soft, lilting Hungarian accent as she gives a tour of the downstairs workshop in her Mount Washington home. She points at a pair of elbow-length black leather gloves with tapered fingers and topstitching that are as sleek as a panther.Unlike her gloves, Gaspar, 44, is subdued -- much as you might expect from someone who can spend up to two days hand-cutting and piqué-stitching one pair from swaths of Italian kid leather. Bolts of satin and lamé, spools of candy-hued thread and hand-shaped irons (for pressing stitched gloves) clutter her modest work space. There are no flashy ergonomic chairs or modern desks. Her industrial Juki sewing machine looks sturdy but weary. "Those die cutters are over 100 years old," she says proudly of a cubby crammed with cookie cutter-like tools. "They have always been in my family."Her grandfather founded Gaspar Gloves in Budapest in 1890. Her father carried on the tradition. With nine older siblings who spurned the family business, Gaspar had little say in her destiny. "I was the 10th child, and they made me learn it," she says with a good-natured shrug. In 1985, she followed her beau -- now husband -- to L.A. and soon found work sewing at Gloves by Hammer of Hollywood on Melrose Avenue. A few years later, Hammer when closed, she struck out on her own and started working with movie studios.In addition to supplying Madonna with purple fingerless driving gloves for her current tour, Gaspar has a thriving off-screen following. "My clients either wear them for fun or wear them to church," she says of the designs, which range from $75 for driving gloves to $185 for elbow-length custom styles; gloves that extend all the way to the shoulder run to $275. Hands are traced to determine size. "I have a few fans who have 30 pairs of my gloves. They always say, 'This is my last pair.' "It helps that gloves are currently having a moment, as they like to say. Marni showed long white gloves with cropped jackets on the runway for fall 2008. Diane von Furstenberg paired scrunched chocolate gloves with a belted duster, and Dsquared sexed up a ruched red sheath with elbow-length black leather gloves. (Gaspar has created gloves for designer Bob Mackie's over-the-top looks.)"I'm always trying to come up with new, edgy designs," she says, gesturing to a cheeky gray and purple pair that lace up the middle like a corset. Equally unique are the long moss green ones adorned with more than a dozen leather-covered buttons. "I add buckles or zippers or try putting together new colors."Never underestimate the allure of a swath of black, though. Late last month, Beyoncé performed live in Rockefeller Center for the "Today" show and a fan snatched one of her elbow-length black leather gloves right off her hand. She carried on her performance wearing just one, and the effect was almost as frisky as Rita Hay worth's famous glove striptease in 1946's "Gilda."If they're considering a remake, Gaspar has the perfect gloves.
---